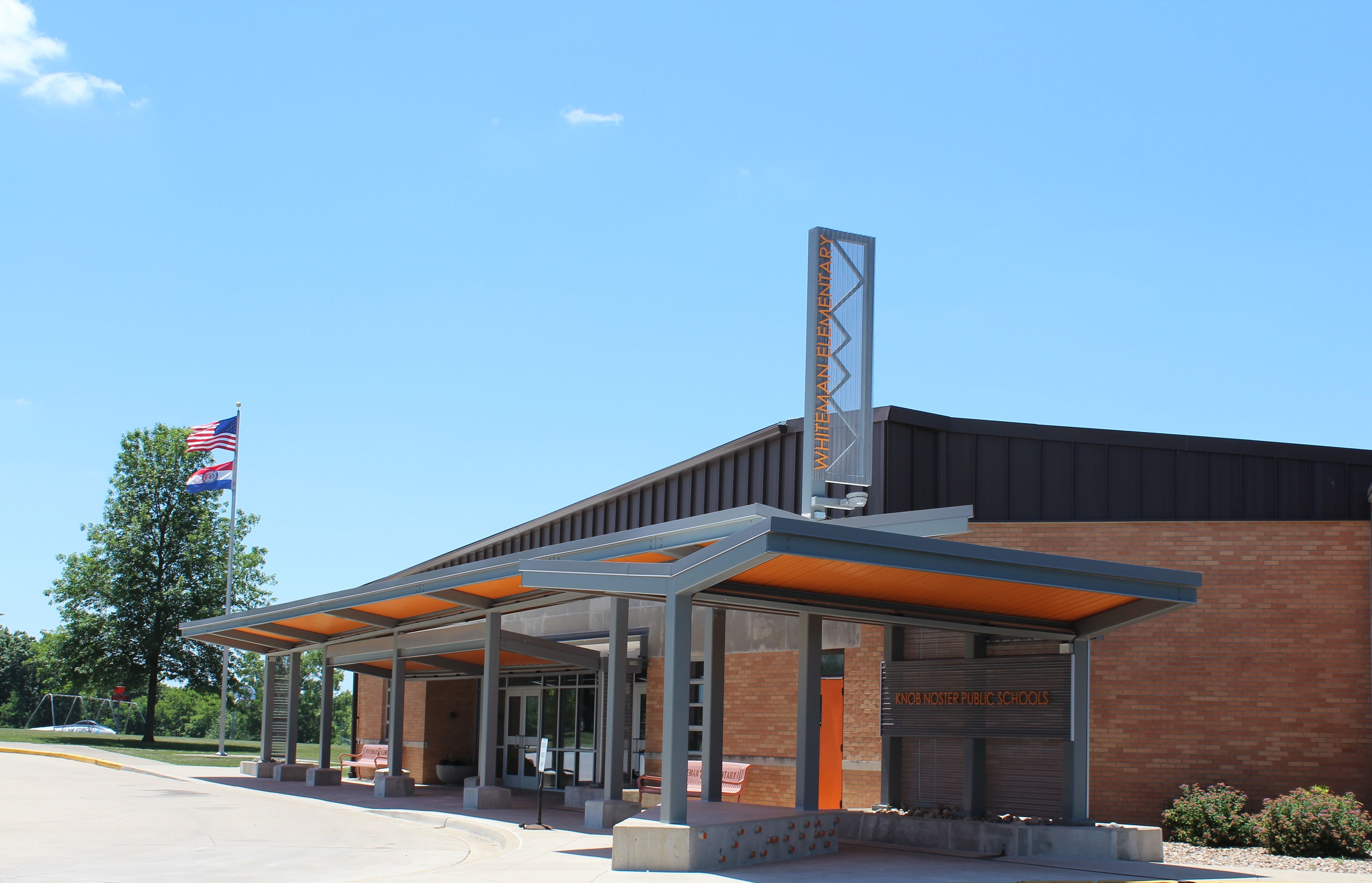 Whiteman Elementary, PreK-5th grade, located on Whiteman AFB, MO
Education
The Whiteman Air Force Base (WAFB) region is home to high quality school districts and post-secondary education. The military has a large impact on the local school districts.
Local School District Information
Per school representatives, the current* statistics of the largest school districts near WAFB are:
Knob Noster R-VIII School District:
1,200 military connected children in attendance; approximately 70%

Knob Noster Schools also operate Whiteman Elementary (pictured above), a PreK-5th grade building located on Whiteman AFB.

In 2017, 2019, and 2021 KNPS was the Recipient of the prestigious Pete Taylor Partnership of Excellence Award through the Military Child Education Coalition.

Additionally, in 2019, 2020, and 2021 Knob Noster High School was recognized as the #1 rural school in Missouri for College and Career Readiness by US News and World Report.
Warrensburg R-VI School District:
610+ military connected children in attendance; approximately 18% of the PreK-12 enrollment, which is around 3,380 students
*Updated February 2022 _________________________________________________________________________________________
Secondary Education Information
The Whiteman Education and Training Center supports long-range Air Force education goals for maintaining a high-quality Force, striving to assist members with enhancing their professional and personal development, recruitment, retention and readiness. On base colleges/universities include: State Fair Community College, Park University, and University of Central Missouri. For more information on the Whiteman Education and Training Center, visit here.
Off base, State Fair Community College, Warrensburg Area Career Center, and University of Central Missouri are all located near WAFB.
_________________________________________________________________________________________
Continuing to strengthen the bond with WAFB:
---
Quick Links
---
---
Comprehensive Programming: As a result of comprehensive, strategic academic program realignment in career and college readiness, Knob Noster Public Schools ranked Number One out of all schools serving the 154 Air Force Bases in the U.S. on a recent study conducted by the Air Force. The study measured the quality of education offered to Air Force families of our nation.
------------------------------------------------
STEM2 (Science, Technology, Engineering, Math, & Manufacturing): Knob Noster School's Engineering and Robotics program has emerged as a national leader, winning multiple national-level awards and recognitions for their academic performance. KNHS students recently were called upon by the Wing Commander at Whiteman AFB to design, fit/form/test, and manufacture a safety part that is now operational across the $80 billion fleet of B-2 Stealth Bombers.
------------------------------------------------
Aviation: Knob Noster Schools have developed career pathways in aviation allowing students to complete: (1) Ground School Training, (2) Unmanned Aircraft Flight Operations, (3) Private Pilot's License. In each of the last two years, multiple KNHS students graduated high school with a private pilot's license in hand. Likewise, in each of the last two years, KNHS graduates have been accepted for enrollment in the U.S. Air Force Academy.
B-2 Spirit Stealth Bombers